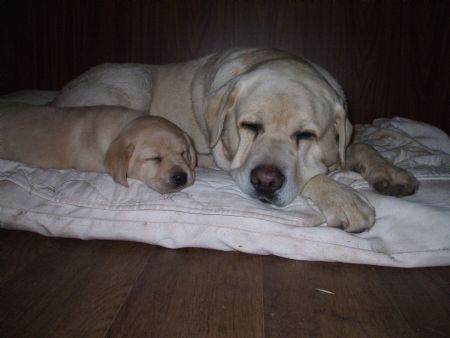 Welcome to Jollab Labrador Retrievers
CANINE ASSOCIATION # 300143110.
RPBA MEMBER # 10863.
DOGS SOUTH AUSTRALIA 5100072105
Labradors had been in Geoff Jolly's family for 45 years. He breed them for pleasure, obedience training, for their retrieving ability in the field and for showing.
All of our breeding bitches have had their hips and elbows xrayed, PRA clear, and they have a DNA certificate and a current eye certificate. Geoff's litters (only one or two in eighteen months) were bred under the code of ethics of the Labrador Retriever Club of Victoria and the Victorian Canine Association Inc .
Geoff had been breeding Labradors for the last 20 years and was a member of the Labrador Retriever Club of Victoria and a member of the Field and Game Australia Inc.
Geoff gave huge consideration and carefully chose Kerry Alderton as his successor to continue with the JOLLAB name. Geoff installed his passion for ethics and was impressed by Kerry's eye for quality and attendion to detail.
At Wompinni Station on the banks of the River Murray, Kerry is looking forward to ensuring the JOLLAB name will continue to breed for excellence and is committed to carry on the traditions and ethics set by Geoff Jolly.
All visitors are welcome to meet our Labradors by contacting us to make suitable arrangements to come and meet the dogs and bitches. Please enjoy your visit to our website and you will see all the Labradors from Jollab past and present.
** Before Geoff passed he and Kerry selected the Silverstream bloodlines to be introduced **
Silverstream Rambling Heart.
Now standing at Jollab Labradors at Wompinni Station.
JOLLAB puppies will be available to forever homes May 2022
(Never Trust A Fox)

Contact Details
Kerry Alderton / Geoff Jolly
Renmark, SA, Australia
Phone : 0422138074
Email :
[email protected]
112484 Visitors